Why Ziptrak Blinds Should Be Your Top Choice
If you're in the market for new outdoor blinds in Melbourne or Sydney, you should certainly put Ziptrak® blinds at the top of your considerations list. They offer all of the essential elements you should be looking for in an outdoor blind installation – style, functionality, ease-of-use and high-quality components.
Ziptrak® blinds were designed by a South Australian company who understood their customers' desire to have a blind system that was seamless and easy to operate. The design was well received and greatly successful in the outdoor blind market. As the company made refinements to the Ziptrak® system, other manufacturers recognised the popularity of the design and the need for more like it in the Australian market. The Ziptrak® design was soon offered to other manufacturers in the marketplace, with All Weather Blinds being one of the first manufacturers in Victoria. Since then, we have been one of the longest dedicated Ziptrak® manufacturers servicing the Melbourne and Sydney regions. The design has since become available in a number of materials and finishes making it a popular choice for those seeking a new outdoor blind system.
The Ziptrak® blind system is different to many of its competitors in the market for a number of reasons (read our comparison of Ziptrak® vs Zipscreen). Despite the name including "zip", the Ziptrak® blind system doesn't actually use zippers. We will look into this and the other great features of Ziptrak® blinds below, which will convince you why they should be your top choice!
Ziptrak® blinds in Melbourne and Sydney
Protection from The Elements
Ziptrak® blinds were designed with the sometimes-unpredictable Australian weather conditions in mind, so they are highly effective in protecting against heat, high winds, sun, UV rays and cold weather. This will allow you to enjoy your outdoor space all year round and help to protect your alfresco area and outdoor furniture from damage caused by the elements.
Compared to other blinds on the market, such as zipper or crank blinds, the Ziptrak® system is seamless in design there are no gaps for unwanted wind, rain or sun to sneak through.
In the instance you do want to let some of the elements in, Ziptrak® blinds can be stopped at any point along its guided rail system.
No Unsightly Ropes, Cords, Zips or Wires
As mentioned earlier, the Ziptrak® design doesn't include any zips. Instead the blinds run on a patented spring-balanced, track guided system. This is a big point of difference from other blinds available which are operated by cranks, cords, zips, wires or ropes.
Ziptrak® blinds can be easily lowered or opened with one quick motion, using either your hands or a blind pull-down rod. Remote controlled, motorised options are also available. Check out how simple and quick it is in the video below.
Some competitors use a small zip to hold up their blind, however the Ziptrak® design is held up by a cordura tape often referred to as Kedar. The Kedar is high frequency welded to the chosen blind material. Kedar is a robust material meaning that it can withstand substantial force and hold the Ziptrak® fabric in the channel tightly. This means it won't flap around in the wind like other types of blinds might.
Versatility
The simple design of Ziptrak® blinds offers great versatility to fit all sorts of commercial and domestic solutions. Ziptrak® is suitable for installation on windows, pergolas, balconies and alfresco areas, offering more versatility when compared to other types of blind systems.
For commercial installations, signage can be applied directly to the Ziptrak® material. This is the perfect opportunity to increase brand visibility and drive foot traffic into your business, whilst also providing customers with shade for an enjoyable and comfortable experience.
Custom Finishes for A Modern Look
If the incredible functionality of the Ziptrak® blind wasn't enough to convince you, maybe the ability to customise your new blind will!
At All Weather Blinds, we can manufacture Ziptrak® blinds in a great range of materials and sizes to fit your home or business.
Options include:
Fully enclosed pelmets for added protection and a premium look
A range of top-grade PVC and mesh materials – clear or tinted PVC, mesh shade weave and privacy mesh in a range of colours
High quality aluminium components, powder coated to your colour preference
Motorisation options or the easy-to-lift spring assist manual operation
Need inspiration? Take a look at our Gallery to see some amazing Ziptrak® installations.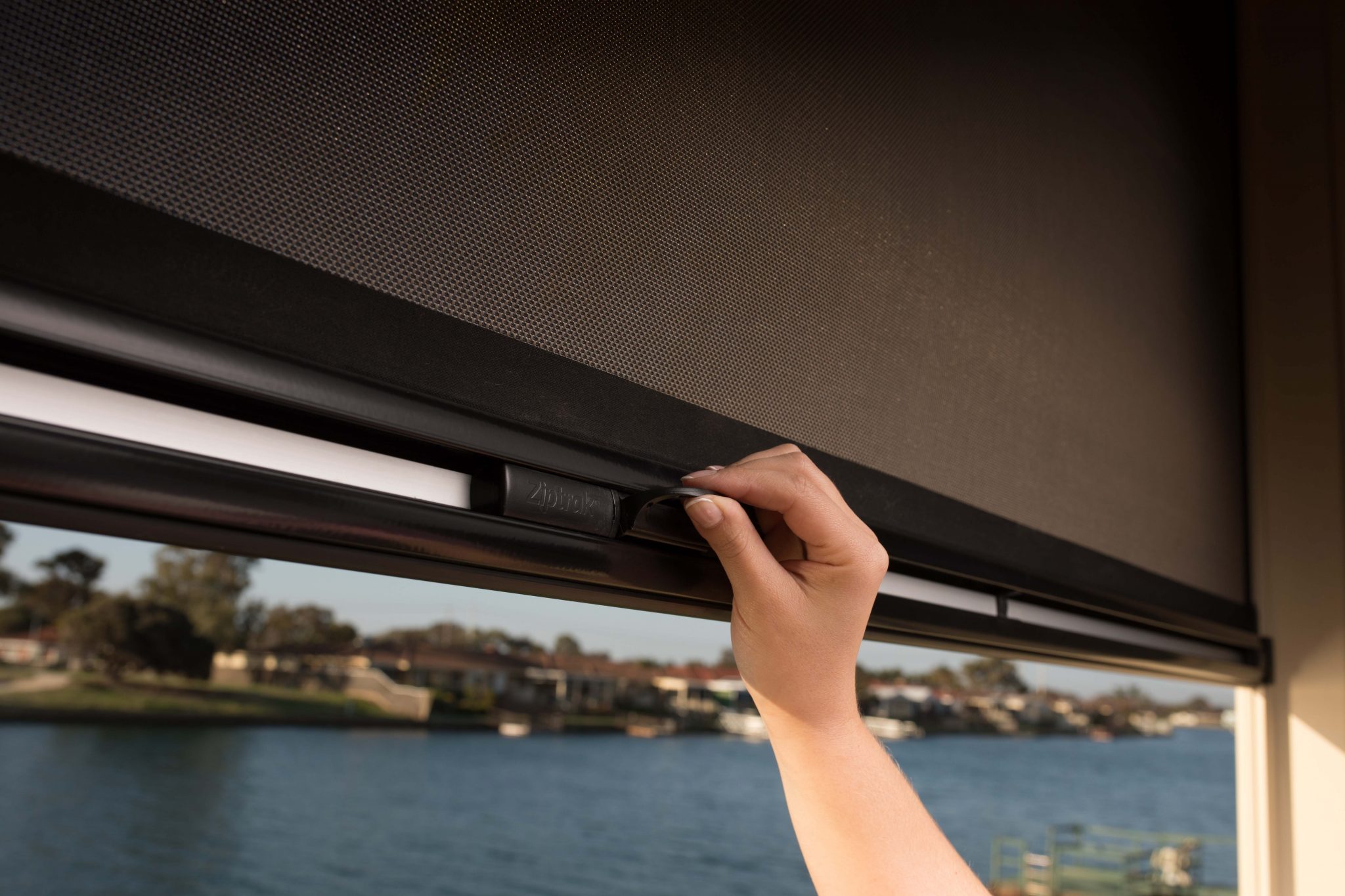 Summary
To sum up some of the great qualities of a new Ziptrak® blind:
No zippers, ropes, pulleys or winding
No buckles or straps
No gaps either side
No flapping
Easy operation – no fuss
Can set in any position
Motorised option available
Custom design options
If functionality, ease-of-use, quality and style are what you are looking for in a new outdoor blind, then look no further than Ziptrak® blinds. If you want to know more about Ziptrak® or would like a quote for your property, contact the experts at All Weather Blinds or call us on 1300 949 025.