Enhance the design and usability of your outdoor space with stylish and functional Ziptrak® outdoor blinds in both Melbourne & Sydney.
Ziptrak® blinds guard against high winds, heat and sun as well as UV rays, and cold weather allowing you to enjoy the Australian outdoors all year round.
Operating blinds can be a cumbersome task, however, the unique Ziptrak® track guided blind system makes the process as simple as possible. Ziptrak® blinds open or close in seconds and can be stopped and set in any intermediate position you desire.
The blind can be secured and locked in the down position to guard against high winds and UV with no zippers or buckles required, it's that simple. We also offer remote control operated Ziptrak blinds Sydney and Melbourne residents and businesses can add on for that extra touch of luxury added convenience.
Custom Ziptrak® Solutions
Depending on your project requirements, we can supply and manufacture Ziptrak® blinds in a large range of materials and sizes to suit your needs:
Clear or tinted PVC
Mesh shade weave or privacy mesh
Motorised or spring operated
Custom sizes to fit your home or business
Ziptrak® Quality
Quality is Key! On-site Melbourne manufacturing using the best materials means your Ziptrak blinds will last longer and withstand harsh weather. You can trust that your Ziptrak® blinds will withstand the test of time with high-quality aluminium, powder coated to your colour preference and top-grade PVC and mesh materials. On-site manufacturing means that all Ziptrak blinds Melbourne and Sydney's locals have installed by All Weather Blinds are of the topmost quality.
Ziptrak® Features
No zippers, ropes, pulleys or winding
No buckles or straps
No gaps either side
No flapping
Easy to operate – no fuss
Can set in any position
5 Year Warranty
Motorised option available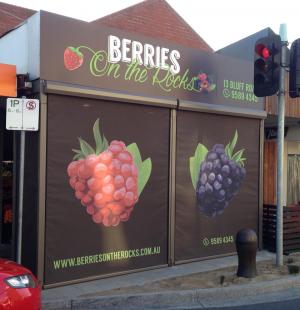 Commercial Installations
For commercial outdoor spaces, Ziptrak® blinds can be used to communicate your business' brand. The blind surface is taut and flat, perfect for signage applied directly to the blind. This is a great way to increase brand visibility whilst supplying your customers with shade for a comfortable and enjoyable experience. Ziptrak blinds Melbourne and Sydney's businesses can have installed allow them to take full advantage of their space and provide opportunities for advertising.
We work in partnership with YOU to find the best solution for your business needs!
Motors for Ziptrak®
Your Ziptrak® system can be motorised, with an automation solution for Ziptrak® blinds. Ziptrak® helps you cut down on energy use by keeping areas warmer in winter and cooler in summer.
Motorised Ziptrak blinds give you full control over your installation, with the added simplicity of being able to control your blinds remotely. At the touch of a button, you can remotely raise, lower and stop your Ziptrak installation at any level that suits you.
Ziptrak® Pelmets
At All Weather Blinds, the look and feel of your home is just as important to us as it is to you!
Ziptrak® pelmets are designed to work with the existing structure of your home, maintaining the integrity of the architecture and adding to the quality of your lifestyle.
Fully enclosed pelmets are available for added protection. They are tailored specifically for the Ziptrak® blind components to ensure seamless integration into any style of housing and a premium look and feel that adds value to your property. Contact All Weather Blinds today for a no obligation free quote in Melbourne or Sydney.
Ziptrak Blinds Frequently Asked Questions