The Ins and Outs of Outdoor Blinds – Do Outdoor Blinds Reduce Heat?
If you've just purchased a new home or are looking to renovate your outdoor area, outdoor blinds and café blinds are the perfect addition. Not only do they protect you against harsh sunlight, harmful UV rays and strong winds, but they also guard against the chilly winter & summer heat.
With many more advantages to help improve your lifestyle, keep reading to learn the ins and outs of outdoor blinds & café blinds and how they can reduce heat in your home or business space.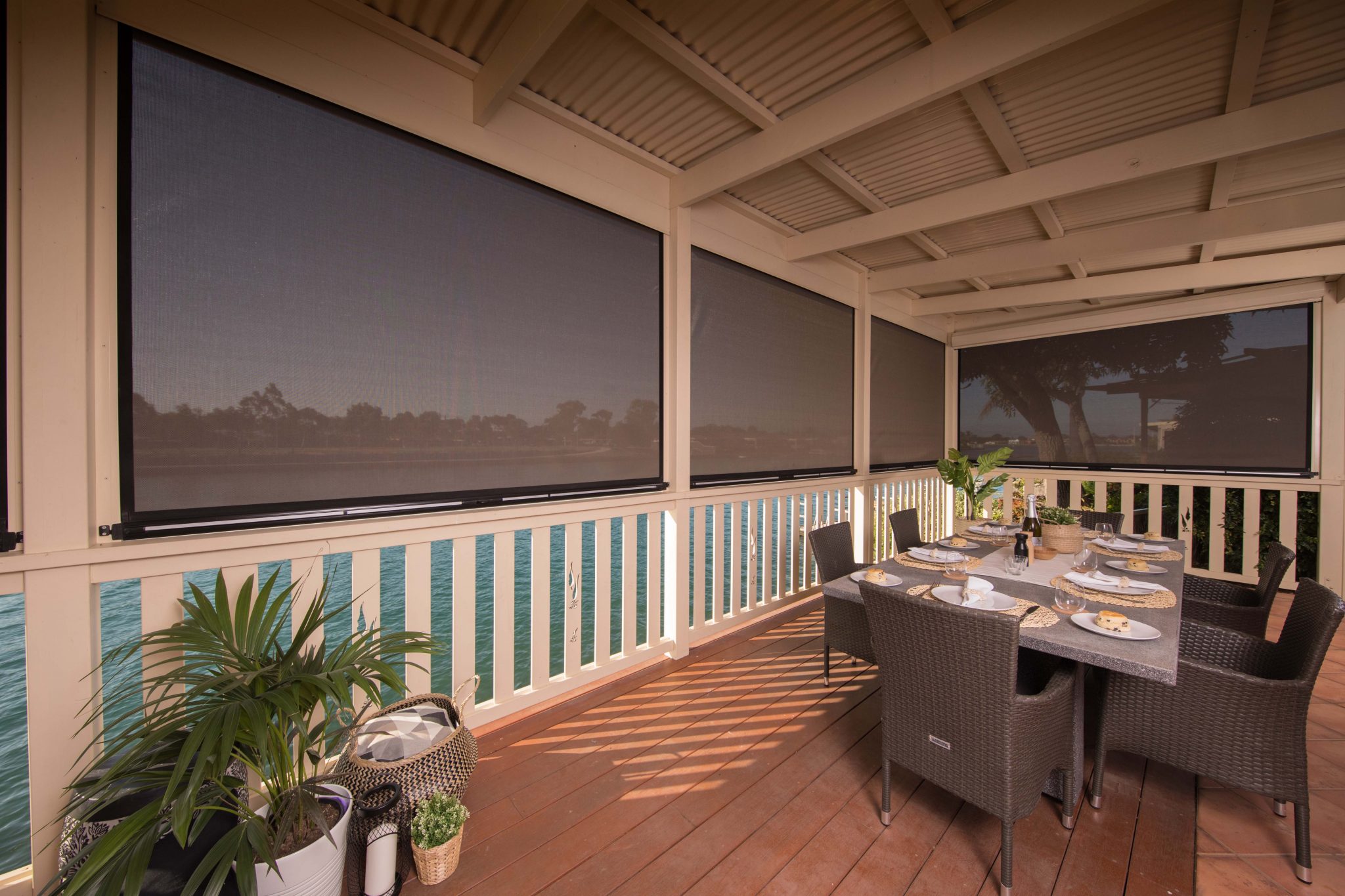 The Advantages of Installing Outdoor Blinds
By installing outdoor blinds Sydney and Melbourne locals can benefit from numerous enhancements to their home, office or restaurant:
1. Added Home Value
Take your pick from various colours, sizes and styles to suit your specific space. Outdoor blinds increase the appearance and area of your home. The result? Added value and prospective buyers will be more drawn to the aesthetics.
2. Pest and Insect Deterrent
When you're enjoying a nice summer barbeque the last thing you need is unwelcome bugs, flies and mosquitos. Outdoor blinds keep tiny creatures and insects out so you can have peaceful leisure time.
3. Creation of additional spaces
Outdoor blinds give you the option of creating the exact additional outside space you require. From dining spaces to lounges and kiddies' play areas or an enclosed private deck, you can transform your outdoor area to have the extra space you've always wanted.
4. Deck weatherproofing
The elements can spoil your deck and prevent you from spending time outside. Outdoor blinds offer weatherproofing to protect your deck from harsh whether such as rain, sun and wind.
High-quality fabrics such as clear or tinted PVC or mesh shade weaves allow you to optimise your outdoor space and provide a sheltered space for customers or entertain family & friends 365 days a year.
In addition, outdoor blinds help protect your furnishings when they guard you against the harsh weather. You'll appreciate experiencing less damage, fading and general wear & tear as a result.
5. Enhanced business atmosphere
Café blinds help extend trading areas of shopfronts or lend themselves to a relaxing outdoor sitting space for customers. The additional benefit is the option of printed business branding.
6. Maximised outdoor space
Space is increasingly in demand as commercial blocks and houses become smaller. Outdoor blinds can help maximise your outdoor space. Simply by covering your patio or veranda area, you'll instantly create more usable areas.
7. More privacy
Outdoor blinds offer you more privacy without compromising on views. You can sit in tranquillity and still admire the surrounding scenery!
8. Outdoor washing drying area
Not so keen to use your tumbler dryer? Outdoor blinds on your balcony, deck or patio enable you to dry your washing outside.
Do Outdoor Blinds Reduce Heat?
Outdoor blinds are available in clear or tinted PVC, a mesh shade weave, privacy mesh and even a blockout mesh for complete protection. Some outdoor blinds can be manually operated while others have a spring-balanced system like Ziptrak® or remote operation for an automated solution. They're effective at reducing solar heat and help keep your outdoor areas warmer in winter & cooler in summer.
To protect your area more from solar gain, outdoor blinds stop the heat before it passes into your home, office or restaurant. They help regulate your interior temperature by controlling how much sunlight enters inside.
The more your blinds are open, the more sunlight will pass through your windows. While this is helpful in winter, the trick to keeping your home cool and conserving energy during the summer lies in keeping your outdoor blinds shut.
Outdoor Blind Colours and Fabrics
Be sure to pick the best quality outdoor fabric to optimise heat protection, sun direction and your surrounding view. Blockout mesh and shade mesh work well, & darker shades are easier on the eye, enhance your view, offer more shade & show less dirt.
If you opt for light-coloured outdoor blinds they'll reflect light away from your building. This helps reduce heat and keeps your interior cooler. For maximised heat reflected away from your building, it's best to go for white outdoor blinds. However, they won't offer as much shade protection from the light.
Typically, outdoor blinds help early in the day before the highest temperatures hit. By keeping your outdoor blinds and windows slightly open you'll allow some air circulation, cool down your interior and perhaps even create a slight breeze. Some mesh materials allow for a small yet refreshing airflow.
At All Weather Blinds we manufacture and install high-quality outdoor blinds and café blinds. We can personalise your installation to match your specific needs, always striving for maximum functionality. Take a look at our impressive range and reduce the heat in your home, office or restaurant today! All Weather Blinds offers the best outdoor blinds solutions. Contact us now on 1300 949 025.