3 Reasons You Need Ziptrak Blinds in Melbourne
Whether it's for a residential or commercial application, Ziptrak blinds should be at the top of the list for your new outdoor blinds installation. They are a functional yet stylish outdoor blind with versatile installation options. The following three reasons are just a few amongst the number of excellent reasons we think you should install Ziptrak blinds in Melbourne or Sydney.
Privacy
Have you ever been on your balcony, patio or front porch and realised that the neighbours can see directly into your home or outdoor space? Ziptrak blinds can give you the privacy you are searching for and are one of the best options for outdoor privacy blinds.
Perhaps you're looking for privacy without losing the view from your outdoor area or window? Ziptrak blinds can be installed with a variety of sunscreen mesh materials available in a wide range of colours and transparencies. Depending on the level of transparency you pick, the mesh blind material will provide you with a high level of privacy during the day without losing the view. Ziptrak blinds in Melbourne can give you control over your outdoor space and privacy for your backyard or balcony.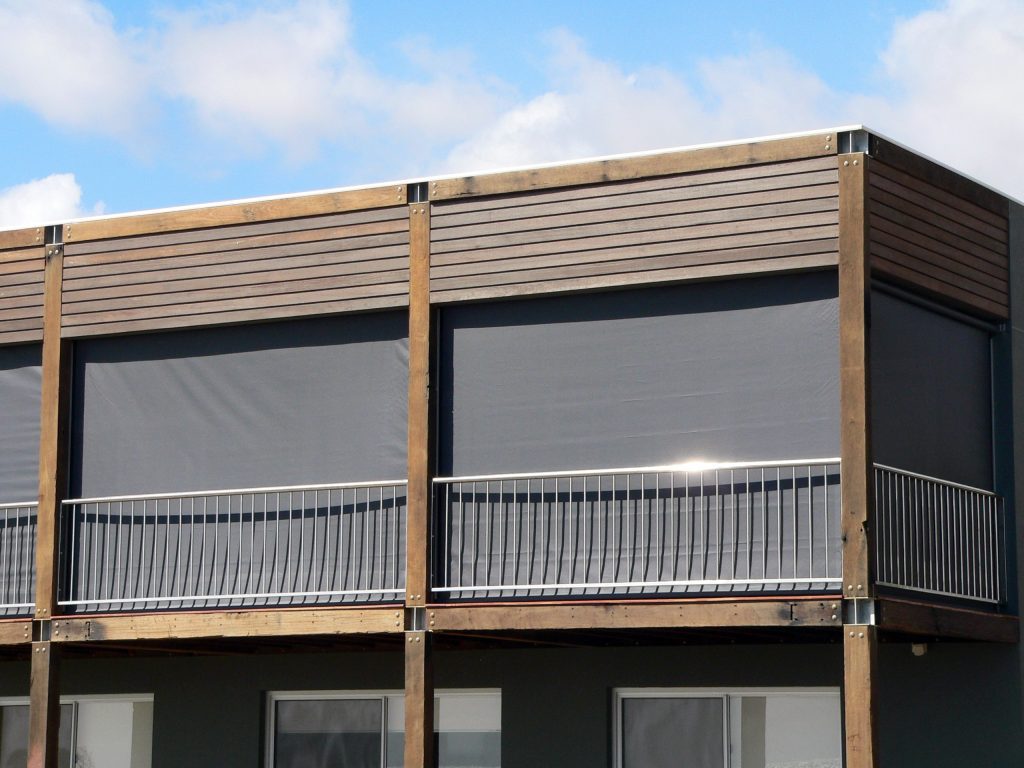 Protection from the elements
Protecting your outdoor space from the elements is a must for a number of reasons. Firstly, you want to be able to enjoy the outdoors without experiencing the harsh weather that sometimes comes with it. The Ziptrak track-guided system is gripped tight in its vertical tracks meaning it won't rattle even during strong winds. The unique design of Ziptrak's spline conceals the edges of the blind and makes it gapless, keeping out wind, dust, rain and irritating insects.
Secondly, protecting your outdoor space and furniture will save you time and money that may be required to restore or clean it. Constant sun and rain on your outdoor furniture can be damaging. A Ziptrak blinds installation from All Weather Blinds can help to solve this problem. 
All Weather Blinds use high-quality, marine-grade mesh or specially engineered, dimensionally stable clear and tint PVC plastic designed for the harsh Australian weather. Their PVC material blocks 93% of UV rays and provides complete wind blockage, while their sunscreen mesh material blocks from 95 to 99% of UV rays and 96% of wind, allowing for a refreshing airflow.
Thirdly, a Ziptrak mesh solution can be incredibly beneficial for temperature control. The Ziptrak system creates a sealed barrier when fully closed so that your outdoor area remains cool during the steamy summer months and retains warmth during winter. Ziptrak blinds can potentially even reduce your energy bills; they can reduce the need to use expensive heating or cooling systems which will lower your energy consumption costs and impact on the environment.
Easy operation
The innovative track-guided design of Ziptrak makes it simple and safe to operate – no pulleys, no ropes, no cranks, no fuss.
Unlike other blind systems that may require cumbersome pulling or cranking, Ziptrak blinds are lightweight due to their patented spring-balanced system and can be operated with the simple glide of a finger. You can effortlessly slide the blind up and down, stopping it at any intermediate height that you desire. Ziptrak blinds can also be locked when fully closed providing you with additional security.
If these three reasons tick boxes on your outdoor blinds checklist, then it sounds like Ziptrak blinds are for you! If you would like to learn more about Ziptrak and why we love it, call the friendly team at All Weather Blinds on 1300 949 025 or request a free quote online.